Stage
From Wellington

Mini Magic Switchboard $395

Wellington Enterprises announces its new Signature Series of Handcrafted Magic. Products in this series will be superior in both craftsmanship and presentation VALUE to an audience. Number 1 in this series is a new BATTERY OPERATED close-up version of our Magic Switchboard.

The new Mini-Magic Switchboard allows this classic effect to be done anywhere in the world. This simple-looking device challenges the common assumption that a switch of a specific color will only operate an electric light bulb of the same color, regardless of where the bulb is located. Our new version of both the 110volt and the new battery operated model, with completely redesigned circuitry, have taken Paul Bernhardt's original idea to a new dimension.

The Mini-Magic Switchboard consists of a finely finished board with four electrical switches and four lamp sockets mounted in two parallel rows. The four switch caps are colored to match the four light bulbs. With this arrangement you can demonstrate that each switch will operate only its similarly colored bulb, regardless of which socket the bulb is in. You can even change the positions of both the bulbs and the switch caps and the correlation between each switch cap and its matching bulb still holds. The switches, bulbs, sockets and the switch caps are perfectly ordinary and their examination will provide no clue to the method. The board is entirely self contained, no separate gimmicks to hide. The spectators can decide the position of the bulbs and even flip the switches. Once the bulbs are lit, the switches can be turned on and off as often as desired and in any order, yet each colored switch will operate only its matching colored bulb. It's devilishly clever. We've included another routine using four white bulbs and playing cards. The bulbs tell you which spectator picked each card. Instead of four playing cards you can use four different objects or product cards. It's great for trade shows! It's so simple to operate you'll entertain yourself with it.

The board is designed to look old-fashioned, belying the electronic wizardry inside and even includes Thomas A. Edison markings. With this improved version, when the board is initially turned on, you are able to light the bulbs in any order. This new twist will make it even less likely that someone will stumble across the clever method. The new Mini Magic Switchboard is supplied with an extra set of bulbs. The new circuitry is now included in both the 110 volt and the new Mini version.

Regular Magic Switchboard $395

The Regular Magic Switchboard measures 16 by 9 inches and plugs into any 110-volt outlet. The effect is simple. Each colored switch will only operate its matching colored bulb ≠ regardless of the position of the bulbs. You can even change the colored switch caps and still they'll always light the matching bulb. The spectators can decide the position of the bulbs and the switch caps and even flip the switches. Yet, each switch will only operate its matching bulb. It's an impossibility. The bulbs, the sockets, the switches and their caps are all perfectly ordinary and their examination will provide no clue to the method. All the trickery is built into the beautifully finished walnut board. It's entirely self contained and devilishly clever. We've literally fooled rocket scientists with this one! Great for trade shows! It's so simple to operate, you'll entertain yourself with it. The Magic Switchboard measures 16 by 9 inches and plugs into any 110-volt outlet.


Production and Vanish : Silk appears from an empty chest, then vanishing in the chest!
Switching Effects : Blank paper to money. Card changes. Paper to silk!
Revive : Torn bills, Notes then restored!
Transpositions : Silk in the hand moves into the chest!
Mentalism : Clairvoyance, Predictions, Envelopes etc !

the new Kate and Edith with DVD $50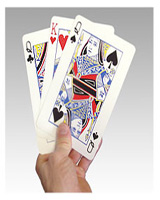 From Kerry Pollock the Show Tech creator and Doc Eason. This is a "naughty but nice" comedy card routine using jumbo cards. It features rhymed patter and has been thoroughly audience tested in comedy and magic clubs all over the United States. During the routine, the King of Hearts is removed from between the Queen of Clubs and the Queen of Spades three times, yet each time he manages to reappear. Finally he vanishes in a cloud of laughter. Updates version with new Jumbo Cards and a DVD that makes learning this fast and easy.
You receive most complete tutorial possible. Scripts from Dan Garrett, Doug Slater, RJ Owens and Doc Eason are included in PDF form so that, once you have chosen the version you want to use, you can download and print it. Doc talks about several different methods to memorize the script. In addition, they have included an audio file of Docís script which you can download to your iPod to learn it that way. They have also included four live performances: one from Kerry, one from RJ Owens and two from Doc. These views give you a chance to see how the routine plays in front of real audiences.

The DVD covers the handling, care and feeding of the props, and cautionary notes about when not to do this routine, as well as additional tips from Bill Palmer, Bob Escher and a clever reworking of the script by Doug Slater and Paul Landry. Comes with four Jumbo Cards, including the special gimmick. The cards are made of sturdy plastic, so they should last a lifetime.
No Tear Paper Tear w/ DVD $25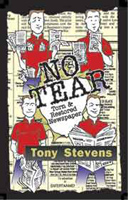 The TRICK of the year 1998 & Still Going Strong!!!
Every magician should own a 'NO Tear Newspaper'!
Tear a newspaper into 8 pieces & it VISIBLY restores itself!
Perform Again & Again with this Powerful MAGNETIC original by Mark Mason.
Remember the torn pieces VISIBLY restore to shock your crowd.

| | |
| --- | --- |
| | Instant Re-Set! |
| | NO Wadding or Folding |
| | NO Wire gimmick |
Made in England by JB Magic
Effect of the Decade! Newspaper is torn in 8 pieces and VISUALLY restores itself! Perform again & again!
CHANGE BAGS-ITALY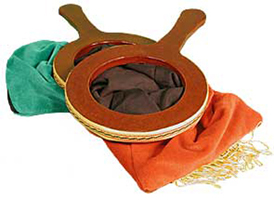 Change Bags at an incredible price. The quality is excellent, these are sold by (to Quote Harry Potter) "The Dealer that Shall Not be Named" for $30. We made a huge purchase so can offer them at the lowest possible price, which is just what we do with everything anyway.